This hammer is a green hammer with various stats in different levels. It is impossible to find this strong hammer in levels 5 and under.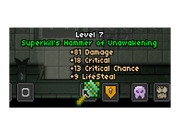 Stats of the Hammer
Edit
???
+81 Damage
+18 Critical
+13 Critical Chance
+9 LifeSteal
Where to Find It
Edit
CAUTION: This wikia page is unofficial. All of the Items are randomized throughout the game, as are the stats at which you obtain them. 
as seen here
http://bit-dungeon.wikia.com/wiki/Superkill%27s_Shield_of_Evil_Worship
this is part of superkills set
Ad blocker interference detected!
Wikia is a free-to-use site that makes money from advertising. We have a modified experience for viewers using ad blockers

Wikia is not accessible if you've made further modifications. Remove the custom ad blocker rule(s) and the page will load as expected.