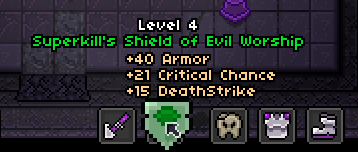 This shield is a glowing green shield with some type of symbol on the front (leaf? tree?)
Stats at level 4
Edit
+40 armor
+21 crit chance
+15 deathstrike
How to get it
Edit
You should be able to find it near your 3rd time doing all the bosses.(the same place you can find the Superkill's Hammer of Unawakening)
as seen here
http://bit-dungeon.wikia.com/wiki/Superkill%27s_Hammer_of_Unawakening
this shield is part of superkills set
---
My thoughts...(Not the person who wrote the rest of the article, why did I use a pronoun anyways?)
Green armor is a rare drop, I think 0.5% chance for a normally brown chest to be a green chest.
Superkill's as a prefix gives 20 crit chance. (though I have had 19, 21, and 22)
Shield as an item gives 10*(Equipment Level) Armor (+/- 5 I think)
of...well, that's "of."
Evil Worship gives 15 DeathStrike. (though I have had 14)
Ad blocker interference detected!
Wikia is a free-to-use site that makes money from advertising. We have a modified experience for viewers using ad blockers

Wikia is not accessible if you've made further modifications. Remove the custom ad blocker rule(s) and the page will load as expected.